Challenged Votes Mar Unionization Efforts In Bessemer – WWD
The public portion of the vote count for whether the U.S. will see its first Amazon union has begun.
Last summer, against the backdrop of the COVID-19 pandemic and the persisting racial injustices against Black Americans, Bessemer, Ala. became host to a historic call to unionize one Amazon fulfillment center. Since then, the closely watched organizing drive has drawn international attention to the year-old facility called BHM1, where roughly 85 percent of the workers are Black, according to the Retail, Wholesale and Department Store Union, which the workers are seeking to organize with.
The National Labor Relations Board, which administers the election, began tabulating the ballots after voting concluded in March. There were some 3,215 ballots cast among the roughly 5,800 workers in the unit, according to a statement Wednesday by the RWDSU. Thursday's tally, which in a fairly unusual move was being broadcast publicly, involved individually counting each "yes" and "no" vote.
Regardless of the outcome, the effort to get to this stage of the unionizing process, rare in the present day retail landscape, is expected to ripple across the industry.
"There is value, not only for the public watching, but for workers around the country, to see how the [NLRB] functions and how the results are counted," said James Brudney, labor and employment law professor at the Fordham University School of Law, and former chief counsel of the U.S. Senate Subcommittee on Labor.
"This is a democratic election process," he said. "To the extent that other workers may be learning about how the labor board and labor act work, that's important in educational terms, and will be, pretty much regardless of the result." 
Over the past week, the parties had engaged in a process called the "clearing of the ballots" where Amazon and the union had the opportunity to review the ballots, and decide whether to challenge them. On Wednesday, the RWDSU said there were "hundreds of challenged ballots mostly by the employer."
If the public vote count results in a series of overwhelming "yes" or "no" votes, the outcome could become clearer soon. But, if the vote is close, then the challenges over contested votes will have to be addressed in a separate hearing to determine whether they can be counted.
With a number of anti-union tactics cited by the RWDSU and facility employees, the NLRB found Amazon in violation of its request for in-person voting (a practice the board dropped in March for safety amid the pandemic) and to install a ballot dropbox. Amazon offered a statement expressing "disappointment" with the NLRB's ruling in the matter.
The drive has spotlighted well-publicized criticisms of the working conditions of Amazon employees, who have described having to meet strict quotas and grueling hours on their feet, even during the pandemic.
In March, Jennifer Bates, an employee at the Bessemer facility, testified to the Senate Budget Committee about such conditions, prompting an Amazon representative to respond: "We take employee feedback seriously, including Ms. Bates', but we don't believe her comments represent the more than 90 percent of her fulfillment center colleagues who say they'd recommend Amazon as a great place to work to friends and family. We encourage people to speak with the hundreds of thousands of Amazon employees who love their jobs, earn at least $15 an hour, receive comprehensive healthcare and paid leave benefits, prefer direct dialogue with their managers, and voted Amazon number two on the Forbes best employers list in 2020."
Still, the drive has galvanized other Amazon workers. Before the vote, RWDSU president Stuart Appelbaum said regardless of the turnout, "this campaign is already a victory" in raising greater awareness for union efforts in the U.S. and igniting a spark for continued drives. He said more than 1,000 Amazon workers across the country have since reached out to RWDSU on how to organize. Labor experts agreed about the influence potential of the Bessemer drive.
"In terms of what the union has achieved by getting this far, Amazon workers work very hard, and their working conditions are far from perfect," said Julius Getman of the University of Texas, a labor law scholar and author of the 2016 book "The Supreme Court on Unions: Why Labor Law Is Failing American Workers."
"It's not surprising that some of them are open to the message that if you have a union, you'd do better," he said.
For thousands of U.S. retail workers and millions of global garment workers, grassroots campaigns and labor organizing are some of few lifelines. Especially during the ongoing pandemic, retail workers have sought guidance on navigating furloughs, severance issues and workplace safety from unions like RWDSU and Workers United. Campaigns like #PayUp from nonprofit Remake (that recouped $22 billion in canceled or suspended orders since last April) or #PayYourWorkers from Worker Rights Consortium that aired out the $39.8 million in legally owed severance pay in a recent report, also demonstrate the impact of such collective efforts.
RWDSU's Appelbaum believes unions are becoming "something to be valued again." The renewed momentum at the NLRB may be further indication of stepped-up efforts.
Amid its own recent overhaul, the NLRB is rebuilding its capacity and listing dozens of top-level regional openings across the country after dwindled resources and continued staff reduction that dropped 26 percent from 2010 to 2019, according to a March report from the U.S. Government Accountability Office. Staffing conditions worsened under the prior general counsel's appointment in November 2017, leaving remaining staff "potentially overburdened" amid the Board's diminished appropriations.
Since January, there have been nine cases filed with the NLRB involving Amazon, including individual charges against Amazon at the Bessemer facility for coercive statements. Maneuvers such as threats and the promise of benefits are generally viewed as improper efforts by an employer to interfere in the process.
The right of employees to organize a union, while protected by the National Labor Relations Act, can face steep hurdles in practice, labor law experts said. For one thing, retail workers in the U.S. generally have to organize separately within their own plant or store or warehouse, observed Ariana Levinson, professor at the University of Louisville Brandeis School of Law. In the instance of the Amazon vote, the election involves just the workers at its Bessemer, Ala. warehouse, and not the hundreds of thousands of workers across its other facilities. 
The law also allows employers to conduct what are known as captive audience meetings, where they can instruct employee meetings led by management or their lawyer or consultant to make their case to workers for why they believe employees should vote against the union. Employers are not allowed to retaliate against unionizing workers, but the dynamics in many cases can leave workers fearful of losing their jobs, Levinson said. 
"If you're a worker whose livelihood really depends on your income…it is difficult to organize more generally in our country, and a lot of that is the legal framework that we have in place," she said.
For More, See:
Decision Draws Near in U.S. Amazon Unionization Case
How Two Unions Representing Retail Workers Are Navigating the Pandemic
Bundestag beschließt deutschlandweite Corona-Notbremse – der Überblick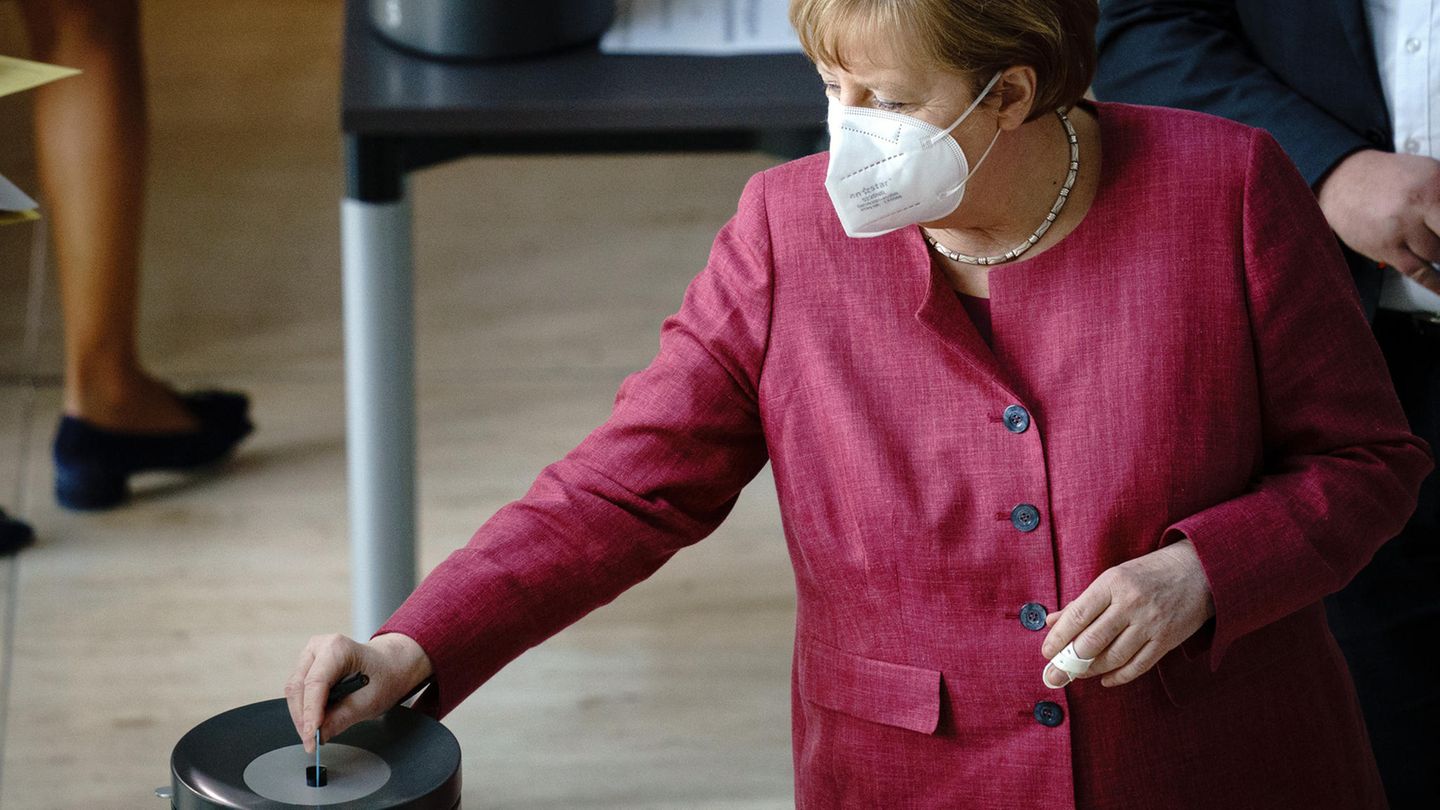 Gegen dritte Welle
Bundestag beschließt deutschlandweite Corona-Notbremse – welche Regeln ab wann gelten sollen
Seit Wochen rollt die dritte Corona-Welle mit tödlicher Kraft durch Deutschland. Neue Regelungen sollen sie bremsen. Während es im Parlament ums große Ganze geht, kommt es draußen zu Rangeleien.
Mit der Corona-Notbremse rücken Ausgangsbeschränkungen ab 22 Uhr und der Stopp von Präsenzunterricht in weiten Teilen Deutschlands näher. Der Bundestag beschloss am Mittwoch in Berlin entsprechende Änderungen des Infektionsschutzgesetzes. Die Abgeordneten lieferten sich einen leidenschaftlichen Schlagabtausch über die neuen Vorschriften. Nach der Befassung des Bundesrats und der Unterzeichnung durch den Bundespräsidenten könnten die Regeln frühestens am Samstag greifen. Nahe des Parlaments lieferten sich Gegner von Corona-Maßnahmen heftige Rangeleien mit der Polizei. Die Behörden hatten den Aufzug wegen Missachtung der Regeln zum Infektionsschutz zuvor untersagt.
Im Plenum votierten in namentlicher Abstimmung 342 Abgeordnete für das Gesetz. Es gab 250 Nein-Stimmen und 64 Enthaltungen. Bei CDU/CSU stimmten 207 Abgeordnete dafür und 21 dagegen, bei der SPD gab es 135 Ja- und 2 Nein-Stimmen. AfD, FDP und Linken lehnten das Gesetz fast geschlossen ab, bei den Grünen gab es 56 Enthaltungen.
Ausgangssperre, Kontaktbeschränkungen, Terminpflicht

In Kreisen und Städten mit hohen Infektionszahlen dürften die Menschen infolge des Gesetzes ab 22 Uhr die eigene Wohnung oder das eigene Grundstück in der Regel nicht mehr verlassen. Spaziergänge und Joggen alleine bleiben aber bis Mitternacht erlaubt. Gezogen werden soll die Notbremse, wenn in einem Landkreis oder einer Stadt die Zahl der gemeldeten Neuinfektionen pro 100.000 Einwohner binnen sieben Tagen an drei Tagen hintereinander über 100 liegt.
Viele Schülerinnen und Schüler müssen sich vorerst wieder auf Homeschooling einstellen: Präsenzunterricht an Schulen soll ab einer Inzidenz von 165 gestoppt werden. Ausnahmen für Abschlussklassen bleiben möglich.
Ab der 100er-Schwelle darf sich höchstens ein Haushalt mit einer weiteren Person treffen, wobei Kinder bis 14 Jahre ausgenommen sind. Läden dürfen Kunden nur noch empfangen, wenn diese einen negativen Corona-Test vorlegen und einen Termin gebucht haben. Ab einer Inzidenz von 150 soll nur noch das Abholen bestellter Waren möglich sein.
Am Mittwoch kamen knapp 25.000 Neuinfektionen hinzu. Bundesweit lag die Inzidenz bei 160,1. Am Vortag wiesen 359 von 412 Kreise eine Inzidenz von über 100 auf. Betrachtet man die Bundesländer, so lagen weite Teile Deutschlands am Mittwoch über der 165er-Schwelle, nämlich Baden-Württemberg, Bayern, Bremen, Nordrhein-Westfalen, Sachsen, Sachsen-Anhalt und Thüringen. Dem Beschluss im Bundestag waren tagelange Verhandlungen über die Details vorangegangen. Zuvor hatte es wochenlange Debatten über die weitere Pandemie-Bekämpfung gegeben. Die bisherigen Beschlüsse der Ministerpräsidenten mit Bundeskanzlerin Angela Merkel (CDU) waren als nicht mehr ausreichend kritisiert worden, vor allem weil viele Länder sich nicht daran hielten.
Zugleich stellte Arbeitsminister Hubertus Heil (SPD) per Rechtsverordnung die Weichen dafür, dass Unternehmen den nicht im Homeoffice befindlichen Mitarbeitern zwei Corona-Tests pro Woche bereitstellen müssen.
Koalition wirbt eindringlich für die Regeln – Kritik aus Opposition

FDP-Chef Christian Lindner kündigte Verfassungsbeschwerde gegen die Bundes-Notbremse an. "Wir sehen die Regeln zur Ausgangssperre verfassungsrechtlich unverändert als hoch problematisch an", sagte er dem Redaktionsnetzwerk Deutschland (RND). "Wir wollen deshalb die Rechtmäßigkeit in Karlsruhe geprüft sehen." Bereits im Plenum hatten vor allem die FDP, die AfD und die Linke erhebliche Grundrechtseinschränkungen kritisiert.
AfD-Fraktionschef Alexander Gauland sprach von einem "Angriff auf die Freiheitsrechte, den Föderalismus wie den gesunden Menschenverstand". Linke-Fraktionschefin Amira Mohamed Ali sagte, die Bundesregierung versuche, Grundrechte "praktisch im Vorbeigehen" einzuschränken und ihre Befugnisse auszuweiten. Die Grünen hingegen monierten, dass die Schritte nicht konsequent genug seien, um das Virus zurückzudrängen.
Die Koalition warb eindringlich für die Regeln. Vizekanzler Olaf Scholz (SPD) sagte: "Was wir brauchen, ist Klarheit und Konsequenz." Es gehe nicht um einen Dauerzustand, sondern darum, die Pandemie zu überwinden. Gesundheitsminister Jens Spahn (CDU) sagte: "Die Lage ist ernst, sehr ernst." 4987 Menschen lagen am Mittwoch mit Covid-19 auf Intensivstationen. "Tendenz weiter steigend, bei sinkendem Alter der Patienten", sagte Spahn. Zwei Drittel aller Ausbrüche fänden derzeit im privaten Bereich statt. Unionsfraktionschef Ralph Brinkhaus (CDU) betonte: "Dieses Gesetz ist ein Gesetz fürs Leben." Er hätte ein härteres Gesetz bevorzugt, aber nun sei es wichtig, den Kompromiss zu verabschieden.
Neue Regeln greifen frühestens ab Samstag

Die neuen Regelungen könnten frühestens ab diesem Samstag greifen. Bevor das geschehen kann, müssen sie am Donnerstag den Bundesrat passieren. CSU-Landesgruppenchef Alexander Dobrindt sagte RTL/ntv: "Der Bundesrat wird sich nicht verweigern." Zudem muss Bundespräsident Frank-Walter Steinmeier das Gesetz unterzeichnen. Es ist offen, ob das am Donnerstag geschehen wird, weil das Gesetz – wie jedes andere auch – im Präsidialamt erst geprüft wird. Die Veröffentlichung im Bundesgesetzblatt könnte möglicherweise noch am selben Tag wie die Unterzeichnung erfolgen.
Es könnte also sehr schnell gehen: Als der Bundesrat im März 2020 das Gesetzespaket zu den Corona-Hilfen absegnete, unterzeichnete Steinmeier es zwei Stunden später. Noch am Abend desselben Tages wurde die Regelung im Bundesgesetzblatt veröffentlicht. Damit die Notbremse greift, muss die Sieben-Tage-Inzidenz an drei Tagen über 100 liegen. Diese drei Tage sollen nach dem jüngsten Entwurf nun auch schon die drei Tage unmittelbar vor Inkrafttreten des Gesetzes sein.
Nahe dem Reichstagsgebäude demonstrierten mehr als 8000 Gegner der Corona-Maßnahmen. Wegen massiver Verstöße gegen die Hygiene-Regeln untersagte die Polizei die Demonstration. Beamte versuchten, Teilnehmer zu zerstreuen. Demonstranten griffen Polizisten an. Dutzende Menschen wurden festgenommen. Etwa 2200 Polizisten aus mehreren Bundesländern waren im Einsatz.
Die Corona-Notbremse ist bis zum 30. Juni befristet. Bis dahin soll die Pandemie durch Impfungen nach Erwartungen der Regierung weitgehend zurückgedrängt sein. Die Zahl der Geimpften wachse zügig, sagte Spahn. "Anfang Mai wird es jeder Vierte sein, in wenigen Wochen jeder Dritte", sagte Spahn. Aber: "Impfen und Testen alleine reicht nicht, um die dritte Welle zu brechen."
Martina Herzog, Sascha Meyer und Basil Wegener / fs
DPA
After 'Best Year Yet,' Studio Nicholson Opens New London Store – WWD
LONDON — It looks like the world is catching up with Nick Wakeman's trend-free approach to dressing — and it's showing in the brand's bottom line.
The London-based label, best known for its modernist wardrobe staples, had its best year to date in 2020 with its wholesale business growing 40 percent; e-commence growing 25 percent, and its Japanese and South Korean businesses seeing a 40 percent surge each, during the pandemic.
"There used to be a reticence, especially from wholesale accounts. Certain markets, the U.S. in particular, weren't really on board, they wanted everything really shout-y and categorized. But now we don't have those categories, people work from home and have different lifestyles, and that has influenced the amount of growth that we've had," Wakeman said.
So, with a renewed relevance and fresh round of investment from Rianta Capital and sales agency Polly King, the brand is ready to push its business further with a distribution deal in Japan — where it's been operating for a decade and has more than 200 doors — as well as a new flagship opening in London's Soho area, which has been buzzing ever since lockdown restrictions started lifting on April 21. A Tokyo flagship is in the works for next year.
"This is like the benchmark, you really need this as a business," said Wakeman of the new Soho space. "And it actually turned out to be the perfect moment to open, because everybody wants to have a sensory experience again, they want to touch the outfit, smell stuff and try on clothing again."
Wakeman decided to take care of the store design herself, creating a cozy yet no-fuss, minimalist space reflective of her fashion ethos.
The store features modular wooden boxes in different heights and sizes that double as clothing displays and are designed to be interchangeable; sleek white rubber floors in the same shade as the label's bestselling sneakers, and a cozy, textured sofa.
"In my apartment, there's this floating wooden box and behind it, it hides my bathroom. It's quite cleverly designed and I just thought that it would also make the most amazing wardrobe," said Wakeman, who designed her modular wooden wardrobes with Uncommon Projects, a company that specializes in closet fits and kitchens.
"I didn't really want someone who does shop fits, I wanted each individual item to be chosen by me. I am a designer and quite good at interiors at home, so why would I ask someone to do interiors and spend a load of money?" she added of her decision to go at it alone.
Her focus was to reflect the mix of textures and materials that make Studio Nicholson's wardrobe classics stand out, while the modular structures mirrored the brand's philosophy of a modular wardrobe based on seasonless pieces.
"The idea is that you buy things intermittently and you can mix them together with other pieces that you own from Studio Nicholson, or from other brands — they're not deafening or loud that you couldn't mix it with other stuff," added the designer, pointing to trench coats featuring the ideal oversize silhouette, knits and a pair of carryover wide-leg trousers, 30,000 of which tend to sell a year.
The brand's growth strategy isn't tramping its flair for timeless pieces, which are also sustainably made: Over the last year, it shifted its denim production to a sustainable denim manufacturer in Turkey; started using more and more recycled nylon for its trench coats, and is working toward producing locally in each of its key markets.
Its packaging has also been revamped with a type of plastic that can disintegrate in water or biodegrade within two years. "Nothing is really sustainable with fabric, even if it's made out of orange peel, it goes on a plane for 24 hours to get to the factory and then it goes off somewhere else. So, my main focus has been packaging because every product has to be wrapped in huge amounts of plastic," Wakeman said.
Next up is a series of collaborations with British ready-to-wear label Sunspel and shoe label Hereu as well as expanded accessories ranges, including handbags and a broader lineup of leather footwear.
Vermischtes: Die Gewinnzahlen vom Mittwoch, 21. April